Ahead through superior profile quality and low operating costs.
RED.TOOLING meets the highest requirements in profile extrusion and is setting new standards with its unique features such as a heater cage with a central plug, PDC technology, roller short calibration or options like FLOW.CONTROL, FLOW.MATIC, air support control,roller tuner, and the KEEP.CLEAN unit.
Superior surface quality
More material savings
Higher energy and water savings
Increased productivity
Longer service life
Total process reliability
Heater cage with central plug
Only one central plug-in connection between the die and the plastic extruder rules out a mix-up. The new heater cage boosts safety and increases productivity.
Design extremely clear: 1 plug-in connection, 4 fixing screws
Reduction in scraps because no risk of mixing up the connection
Safety system (double-wound) with visual monitoring
Simple and quick assembly and disassembly
Integrated temperature sensor rules out cables from breaking
Standardised dimensions of the heater cage
RED.TOOLING dry calibration
The RED.TOOLING dry calibration stands out with its extremely efficient use of the valuable resources water and energy. At the same time, it shines with an increased cooling capacity.
Safety feature to keep lid from slamming shut
Centralised media supply
A patented block seal prevents unregulated air entry
Together with GESS, 80% of all geometries can be produced with only one vacuum pump and one cyclone unit
Especially for high-plate-out mixtures, the premium profile tooling RED.TOOLING is available in the RTx.0 style and does not require PDC technology. The RTx.0 dry calibration is particularly resistant to hard deposits inside the calibration and also comes in a tubeless version.
Ideal solution for high-plate-out formulations
Little to no line adjustment necessary
Tubeless option – even inside the hinged lids
Direct cooling in the PDC tank improves process reliability and minimises quality fluctuations. The intelligent use of direct water also reduces energy consumption.
Maximum output
Geometry of the profile remains stable
Easy, quick retrofitting and cleaning
Better profile shrinkage values due to direct cooling
Significantly fewer sources of error – no connections/sealing rings/special cooling systems
Shortened preparation time for coating
More than 35% can be saved in water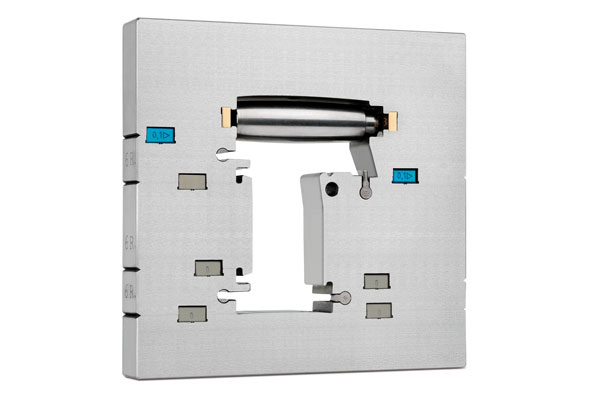 RED.TOOLING roller short calibrations
The roller short calibrations improve the surface quality. They reduce scratches from appearing on the profile by up to 80%. No EDM wire cutting for re-working needed, which allows for faster reaction times and shorter downtimes. In addition, the roller short calibrations are compatible with the DIGI.TANKsystem when performing an upgrade.
Scrap reduction due to score-free profile surface
No EDM wire cutting for re-working needed
Fast reaction times and short downtimes
Position control with colour coding
Savings: c. €5,500 p.a.
Window frame example: 1.2 kg/m, 5,000 h/a production time, 1.2 €/kg material costs, 350 kg/h output
The vacuum tank operates quietly and combines high transparency with the utmost break resistance. It reduces water consumption by up to 50% and, in combination with GESS, significantly reduces energy costs. Furthermore, the RED.TOOLING tank can be upgraded to the DIGI.TANK system.
High transparency enables process control
Increased tightness reduces energy consumption
Vacuum manometer placed in the steel substructure in a shatterproof way
Lighter, dimensionally stable and divided lids
Self-regulating water level
Coupling system accessible from the operator side
No makeshift solution for drying due to drying chamber in the last tank
Increased work safety due to muffled closing mechanism

Roller tuner
Roller-changing device to easily re-work rollers on conventional milling machines.